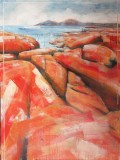 Bicheno
A Visual Arts teacher of many years experience, Suzanne's passion has always been painting.
After completing a Diploma of Art Education at the National Art School and Alexander Mackie College (now Cofa) in the late 1960's, graduating with Distinctions in Painting and Drawing, she exhibited through several Sydney galleries and was a finalist in many major art competitions including the Archibald, Sulman and Portia Geach Prizes.
Her recent work displays a new development with a greater emphasis on an emotional, atmospheric rendering of aspects of the Australian landscape. The rich surface texture and layering of media entices the viewer closer to discover unexpected details.