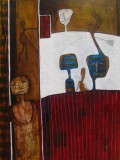 Soul Searching

Lorraine is strongly influenced by her upbringing and early experiences in Africa. She has long identified with the warm tones and colours of Africa. Lorraine values the freedom of expression that is so basic to Africa and she brings to her work a strong sense of culture and warmth. Since immigrating to Australia, she has travelled widely, absorbing the drama of the outback, the sheer beauty of the coastal areas and the strength of community in the cities.

Lorraine has also lived in San Francisco, California and was exposed to contemporary modern art. She has integrated aspects of her impressions of American art into her composite artistic style.

Her intuitive style has incorporated these elements and she delivers a freshness of style and quality. She is fascinated with unconventional materials and this compliments the warm and earthy tones that are evident in her work.

The incorporation of text is often a feature, allowing the viewer to expand beyond the artistic output to incorporate a sense of purpose and meaning. She exploits diverse forms of creation and her taste for different media drives her to explore versatile combinations to gain an interesting and challenging end result.